Alright guys,
Exciting Times in the Steak House!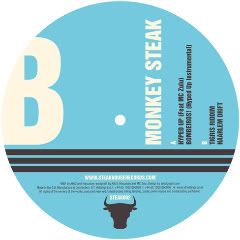 Hot on the heels of STEAK 001, praised by everyone from Thom Yorke to Sinden comes another 12" of karnival heat from Hanuman and Atki2's Steak House imprint.
STEAK 002 sees label bosses Monkey Steak (Hanuman and Atki2) take the helm to deliver a release that fuses Soca, Funky and Bashment sounds with global influences and trademark Monkey Steak edits. The result is a record that'll blow the roof off any dance!
Hyped Up feat MC Zulu is an instant party classic. Featuring the formidable vocal talents of the original badman MC Zulu. This tune is pure Soca Fire.
Soundcloud
Bombeiros! is the riddim of Hyped Up and a huge tune in its own right.
Chromatic Bass and galloping Soca Beats raise the temperature on this tropical banger. One for the Airhorns Crew!
Soundcloud
Tigris Riddim. As featured on Toddla T.'s Fabriclive:47 mix. Fragments of Iraqi folk music collide with bubbling bass and tuff bashment beats. Global Bass at its finest.
Soundcloud
Haarlem Drift is a psychedelic funky anthem. Dreamy synths and punishing sub bass weave themselves around a broken tribal rhythm. Featured in Chrissy Murderbot's massive Mad Decent Mixtape.
Soundcloud
As a special Christmas Gift from Steak House we're also giving away a free 320 of Sheffield Garage Legend Grievous Angel's remix of Tigris Riddim from STEAK 002. Feel free to blog this, share it, whatever. Just click on the arrow on the top right of the player. Happy Xmas!
Soundcloud