OUT NOW!
HPR001
remains available in stores, though stock is limited. Get your copy while they last.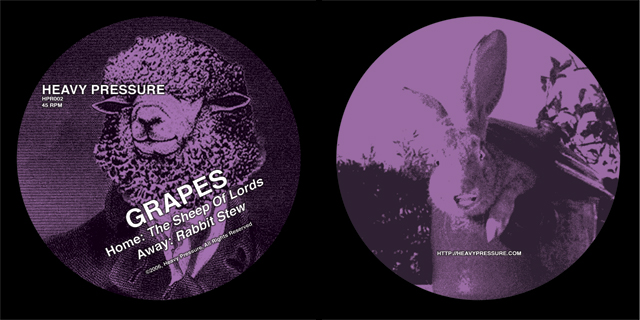 Grapes
A:
The Sheep Of Lords
AA:
Rabbit Stew
(Click for Clips)
Cat: HPR002
The mysterious Grapes makes his debut on Heavy Pressure with two tasty, boundary pushing gems.
The Sheep Of Lords:
Rolling drums served on a bed of smoked out atmospherics, with a side of big boy bass that will bring you back to the beat kitchen for seconds.
Rabbit Stew:
Ponder the mysterious pads and pensive keys while a thick bassline numbs your brain. An onslaught of jazzy drums stir the kettle.
HEAVY PRESSURE IS DISTRIBUTED BY
NU URBAN MUSIC |
www.nu-urbanmusic.co.uk
32-33 Bartholomew Street | Newbury | Berkshire RG14 5LL | UK | +44 (0) 1635 551 400
NU URBAN USA |
www.nu-urbanmusicusa.com
649 Morgan Ave. Unit 2-D | Brooklyn NY 11222 | USA | +1 718 387 0536