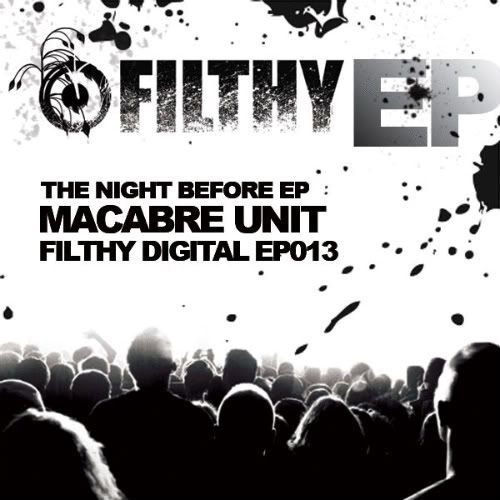 Macabre Unit
, from Milton-Keynes / Bedford, UK are known as one of the biggest Grime crews hailing from the area featuring members;
Demon, 9er, Versa, Rowl
with a special guest appearance by Bristol badman,
Wascal
. With releases dating back to 2003 till present this collective of artists, DJs, producers and emcees are re-defining their sound to accommodate future music ears.
Demon
delights us on the opening banger,
Ave It!
with a unique steppy intro and devastating drop reminiscent of dark warehouse techno vibes.
Versa
smooths it over with
G'd Up
featuring
Rowl
. Future garage style riddim and deep sub-bass rolls out nicely with a peaceful feel.
9er
follows up with a hefty tune,
Fresh Air
. Orchestra strings set the tone on the intro as sturdy drums and analog stab hooks develop into a steady rollout drop. The first track released on
Filthy Digital
in December 2008 ,
Bacteria
-- gets a remix by legendary Bristol producer,
Wascal
. Rugged soundscapes build up into a heavy sub roll accompanied by a steppy break leading up to the familiar synth hook. Intense build up and layering make this tune a solid finish to a well rounded, quality EP.
THE NIGHT BEFORE EP

Cat # FDEP013
**************************************************
Demon
- Ave It!
[Preview]
Versa & Rowl
- G'd Up
[Preview]
9er
- Fresh Air
[Preview]
Macabre Unit
- Bacteria (
Wascal RMX
)
[Preview]
**************************************************
http://www.myspace.com/macabreunitdemon
http://www.myspace.com/macabreunitnines
http://www.myspace.com/wascal
*
Mastered by
SymbL
~ aim - symblarsenic
Available:
October 12th, 2010
BEATPORT
JUNO
DIGITAL TUNES
+various retailers (iTunes, Chemical, eMusic, Amazon, etc) via
************
FORTHCOMING ///
DJ SNIPAZ
PANICK
NTRLD
JSUAVE
*
http://www.filthydigitalrecordings.com
http://www.youtube.com/FilthyDigitalLLC