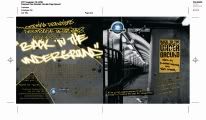 Release Date November 8th
Featuring exclusive Dubplates & VIPÂ's from Search & Destroy, Dubchild, Darqwan, Toasty Boy, VexÂ'd, Distance, Markone and many more.
There is a storm brewing, the UK underground scene is bubbling,
and what once started as a whisper, is becoming a roar.
This 'sound' defies the mould, some call it 'breakbeat', some call it 'grime',
others call it 'dubstep', it is all of that and more, no one knows what to call it,
this 'sound' blurs the boundaries between all styles.
This is fresh UK underground music, and thatÂ's where weÂ're going to take you
1 Back To The Underground Intro Track
2 Espionage - Search & Destroy
3 Full Clip - Toasty Boy
4 New Era - Dubchild
5 Stargate 92 remix - Mark One
6 Lion VIP - VexÂ'd
7 Secret Weapon VIP - Search & Destroy
8 Psychopath VIP - Dubchild
9 Smelly - Bogeyman
10 Kik Daan Ya Door - Narrows
11 Snakes & Ladders - Scarecrow
12 Guesswork - Toasty Boy
13 Bigger Times - Darkqwan
14 Mark Of The Beast - Search & Destroy
15 Mount Zion - Dubchild
16 Soul Fire - Elemental
17 Empire VIP - Distance
18 Fever - SLT Mob
19 Take Me - Dubchild
20 Dibble - Toasty Boy
Mixed by Search & Destroy and Quiet Storm
With Guest appearances from MCs Crazy D, Vicious MC & MC Dangerous
Availible at all good record stores from the 8th of November