Dead//Technology is a night of strictly vinyl & dubplates.
Headlining this particular installment is Baltimore based Joe Nice.
https://www.facebook.com/events/392851284161823/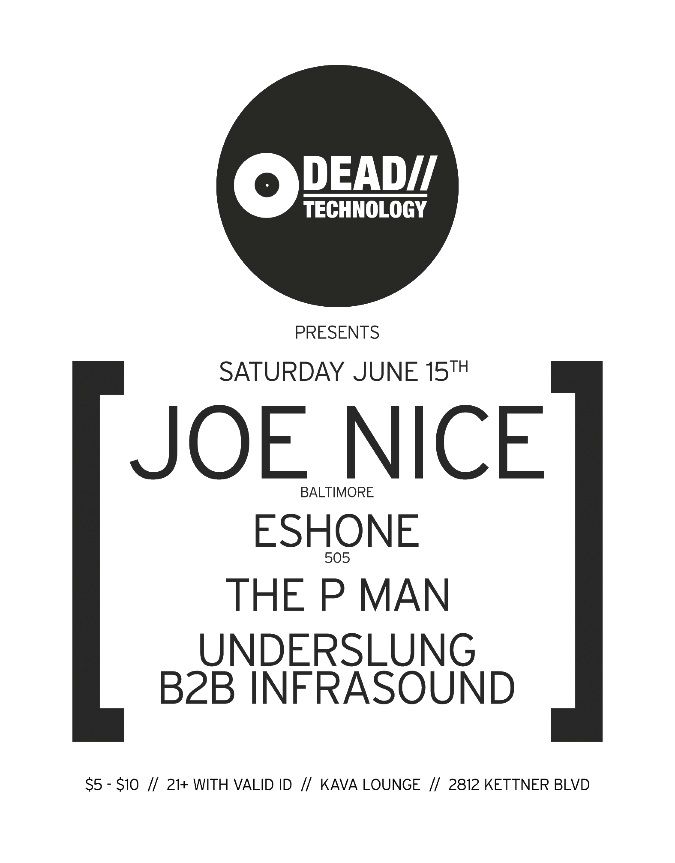 Joe Nice** has been instrumental in the success of dubstep in the U.S. for nearly a decade.
In other words, he's been spinning this shit on dubplate since before it even had a name.
He was part of NYC's staple dubstep monthly, Dub War, which was featured in Rolling Stone Magazine. Joe currently holds court as a resident of Brooklyn's heaviest night, Reconstrvct.
Joe's record bag is a who's who of dubstep...if you've never heard it before, you'll hear it from Joe Nice.
Check the May episode of his Gourmet Beats radio show here:
https://soundcloud.com/joenicedj/joenic ... fm_gourmet
EshOne** This producer/DJ ignites crowds with his bag of dubplates.
Dirty, heavy, and constantly moving, Esh lays down basslines hand crafted to mix up the dance floor.
Esh has been receiving a lot of press lately for having his hands in many fresh projects, from Latin to techno.
http://soundcloud.com/eshone/
The P Man** has become renowned for his funky selections, both on one of SDs longest running radio shows, "The P Man Show," and as an original resident of the Dead//Technology events. Paul has impeccable taste in music, and is all around a good guy. If you get the chance to chat with him, pick his brain about bass music. Paul is a great source of knowledge and inspiration!
Underslung B2B Infrasound** these two names might be new to some, but you'll know their faces from bass music shows, or some may even recognize them as top contenders from "Vinyl Appreciation Hour" at the Elk Beats events. From deep bass, to funky and purple sounds, these dudes will have you covered from the start.
Kava Lounge
2812 Kettner Blvd
9pm - 2am
$5 before 10:30
$10 after