For the next installment of Bass Fueled Mischief @ Webster Hall, we are proud to bring you......
Emalkay
Dieselboy
Hellfire Machina
Liondub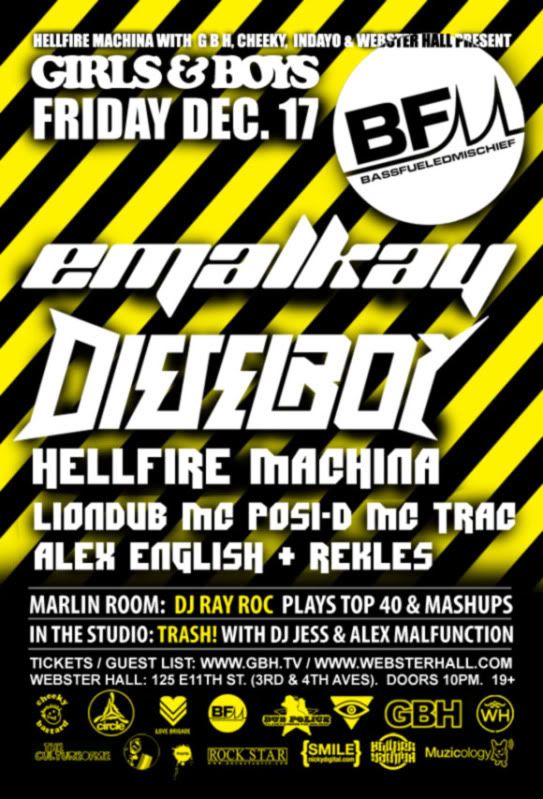 EMALKAY [
www.facebook.com/emalkayofficial
]
With initial support in the form of grime veteran Plastician, "Birmingham's finest" Emalkay gained the attention of South London based label Boka Records with the warped, future bass drones and epic strings of Gut Feeling. Continuing the success, Testing The Waters EP was released in October 2006 followed by Monsters in June 2007. The revolutionary sound of Mecha, released in the fall of 2007, gained Emalkay support from the likes of Radio 1 DJ Mary Anne Hobbs and breakbeat pioneer FreQ Nasty, as well as many of the leading figures of the current dubstep scene. It seemed Emalkay's own potential as a pivotal dubstep artist was finally being realised. His final release on Boka Records was the reggae influenced My Story in April 2008. In the fall of 2008, Emalkay produced Explicit - a tune that gradually captured the interest of such prominent dubsteppers as Benga and received major support from acts such as The Scratch Perverts and drum and bass duo Chase and Status. After being approached by Caspa however, the track was finally released on the Dub Police label in February 2009 after much anticipation.
DIESELBOY [
http://www.djdieselboy.com/
]
Dieselboy is the stage name of Damian Higgins, an American drum and bass DJ, producer, remixer, founder of the Human Imprint music label, and co-founder of its sublabel SubHuman launched September 2010.
On New Year's Eve 2009 during a 3D Productions event at Club 24 in Washington, D.C., Dieselboy played a 3-hour multi-sub-genre set including drum and bass, dubstep and electro. The enthusiastic crowd response encouraged him to continue experimenting with this new format into 2010. Dieselboy is the best-selling American drum and bass musician, was the first American to be voted into the UK-based Drum & Bass Arena Top 10 DJs 2004 online poll, and has played events on six continents. He was also the first d&b artist to chart a single on Billboard's dance chart with Invid in 2000. (Source: The Washington Post) Dieselboy is sponsored by DC Shoes and Pioneer Pro DJ.
HELLFIRE MACHINA [
http://www.hellfiremachina.com/
]
Prior to the birth of this project in late 2008. Jody Shires and Tom Williams collectively had over 60 releases under their belts, along with production work for grammy nominated artists, numerous UK top ten remixes, 5 Breakspoll Awards, Best International Dj in the Spanish EDM awards 3 years running and a history in bass culture that is second to none.. The year is now 2010, sonic exploration in the realm of bass fueled riddims is the primary mission for Hellfire Machina. With residencies at New Yorks legendary Club Love, Darkroom in Brooklyn and Psychadelic Radio in SF, it's no wonder these guys are in high demand. Their weekly radio show on dubstepfm has gone from strength to strength and has helped push the awareness of bass music across the globe as well as providing a platform to hear the latest Hellfire creations first, often in early stages as they are delevoped in their now famously named studio Planet Twisted. Ending last year with A and R and project management credits for the Wu Tang 'Enter The Dubstep' album and a string of singles and remixes, they have hit the ground running in 2010. A fresh batch of releases due to hit the streets imminently, a new label project with techno legend Lenny Dee in the works as well as the next chapter in the infamous BASS FUELED MISCHIEF parties in their homebase of NYC. This is the age of the machine with Hellfire firmly at the controls.................
LIONDUB [
http://www.djliondub.com/
]
DJ Liondub comes correct. An authentic product of Brooklyn, his musical mindset was formed at the crossroads of major international bass vibrations originating from Jamaica, NYC and the UK. Inspired by the global rhythm culture emanating from the streets beneath his feet, Liondub has spent a lifetime pounding that very pavement in pursuit of his passion for bottom-heavy beats.
Armed with raw talent, right intentions, a humble demeanor and the tireless determination of a true New Yorker, he began DJing back in '91. As a 17 year old sound system selector hustling in the Lower East Side of the Dinkins-era, Liondub embarked on a journey that has since taken him to the four corners of the dub diaspora; from Jamaican Roots Reggae to the Jungle depths of the UK, from high up on Hip-Hop to down-low on Dubstep. Along the way he has studied under great masters, paid untold dues and kept it Bed-Sty real in the name of music; all-the-while sharpening skills, developing expertise and establishing critical relationships across geographic and sonic divides. From NYC he criss-crossed North America and from London he conquered Europe, all the while cultivating roots in his home-away-from-home, Jamaica. Always armed with a current arsenal of jungle/dubstep & reggae dubplate specials, Liondub's soulful, explosive, unique, and precise sets have gone down a storm on stages shared by a lengthy list of legends and luminaries including Sly & Robbie, The Fugees, Sister Nancy, Johnny Osbourne, Steel Pulse, Black Uhuru, The Beatnuts, Smith & Mighty, DJ Kush, Afrika Baambaata, Jazzy Jay, DJ Hype, Andy C, Goldie, Pinch, Loefah, Kryptic Minds and Damian Marley to name but a few. Emerging from the shadows of giants, Liondub's mixes have moved him into the spotlight with recent podcast exclusives airing on urb.com and kmag.co.uk, home of the highly influential Knowledge Magazine.
Liondub brings a current arsenal of jungle/dubstep & reggae dubplate specials, His performances are soulful, diverse and explosive.
_____________________________________________________________________
Reduced cover before 12:00AM with RSVP @
http://newyork.going.com/emalkay
Fri 12/17 (10PM)
Where: Webster Hall
Address: 125 E. 11th Street New York City, NY