Percussion Lab & Dub War NYC present
UNSOUND FESTIVAL BASS MUTATIONS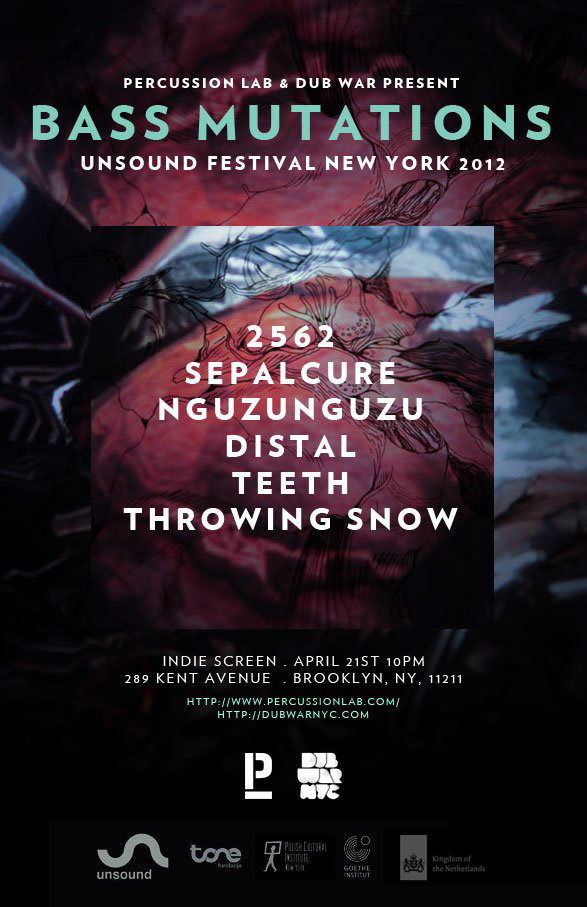 flyer by Sougwen Chung
Limited $20 advance tickets available now from Resident Advisor!
Lineup
2562 Live
(Tectonic, 3024, Clone)
Sepalcure Live
(Hotflush)
Nguzunguzu
(Fade To Mind)
Distal
(Tectonic, Soul Jazz, Grizzly)
Teeth Live
(502 Recordings, Ramp)
Throwing Snow
(Local Action, Ho Tek, Sneaker Social Club)
WHEN:
Saturday, April 21
10pm - 5am
WHERE
Indie Screen
289 Kent Ave (corner S 2nd St)
Williamsburg, Brooklyn
MAP
21+ (bring ID!)
$20 advance tickets at
http://www.residentadvisor.net/event.aspx?355008
Don't forget to PRINT YOUR TICKET and bring to the venue!
Event page on Facebook:
http://www.facebook.com/events/324485034273247/
BASS MUTATIONS IS A LEGENDARY SERIES AT BOTH KRAKOW AND NEW YORK UNSOUND EDITIONS THAT EXPLORES THE LATEST EVOLUTIONS IN BASS MUSIC
ABOUT 2562
Dutchman Dave Huismans aka 2562 - the number referring to his former zip code in The Hague - is on a journey. Having played an early pioneering role in bridging the gap between house/techno and dubstep, his passion to keep reinventing himself is reflected in his third long-player as 2562, "Fever." Released last year, it is currently showing up in many best-of-2011 lists and offers an extreme reworking of late seventies disco and early eighties boogie into genuinely new contortions of beat-freakery.
Previous 2562 releases include a string of highly influential EPs and full lengths on Bristol stronghold Tectonic Recordings and fellow Dutchman Martyn¹s 3024 imprint. Huismans has also produced freak-techno and oddball club tracks under the name A Made Up Sound since 2005, releasing a string of sought after singles on esteemed house and techno labels like Philpot, Subsolo and Clone.
Tonight Huismans plays his first-ever live show in the USA.
http://www.twitter.com/2562amus
ABOUT SEPALCURE
The duo of Praveen Sharma (Braille) and Travis Stewart (Machinedrum) caught people by surprise with their debut self-titled album on Hotflush Recordings. It earned them the #1 slot on Amazon¹s Best Dance & Electronic Music of 2011 list; a slot on iTunes Best Electronic of 2011; a slot on Pitchfork¹s Top 50 albums of 2011 list; a slot on XLR8R¹s Best of 2011 list, amongst many other accolades.
Sepalcure incorporate a strikingly diverse and very American set of influences into their unique take on bass music. The duo are at the forefront of an ever-expanding bass music scene in New York - and have been prolific on solo projects as well. Stewart released a much-heralded album as Machinedrum (last year's "Rooms" on Planet Mu). Sharma, meanwhile, let loose a flurry of EPs under the alias Braille on Hotflush and Rush Hour.
Together as Sepalcure, their music explores intelligently gathered emotional histories of dance music movements in New York, Chicago, Berlin and London. A new single "Eternally Yrs" from the duo will be released on Hotflush the same week as this show. Tonight Sepalcure bring their live show complete with a special audio-visual component created by visualist Sougwen. They are the only act to have performed at all three New York editions of Unsound Festival and for anyone in attendance at this event it will be clear to see why.
http://www.twitter.com/sepalcure
ABOUT NGUZUNGUZU
Nguzunguzu's (pronounced en-goo-zoo-en-goo-zoo) bubbling, otherworldly productions stitch percussively forward experimental sounds into a club-friendly framework. Alongside kindred spirits in the Fade To Mind crew (Kingdom, Total Freedom, Mike Q), Nguzunguzu seamlessly cross genres, tempos, and atmospheres to create a new emotive electronic club realm that immerses body and mind.
Raised on 90s R&B/hip-hop radio and underground club music, the Los Angeles based duo (Asma Maroof and Daniel Pineda) revere contemporary, radio-friendly producers like The Dream. While they reference the modern sounds of footwork and house-inflected UK Bass, Nguzunguzu dig deep to compliment those sounds finding some of the freshest urban pop happening anywhere.
Pitchfork Media called their recent Perfect Lullaby Mix "the most unique and evocative DJ mix of the year", while publications like The FADER, XLR8R, Stereogum, LA Times, and the NY Times have sung their praises.
http://www.twitter.com/nguzunguzu
ABOUT DISTAL
Taking influences from his early childhood love of techno, jungle and hardcore, the Atlanta native has taken a booty-centric approach to producing dubstep and Chicago footwork that have earned him signings on some of the UK's most revered bass music labels. After founding his own Embassy Recordings label in 2010, Distal has in a short time amassed releases on Soul Jazz, Tectonic, and Grizzly, and bookings alongside artists like Pearson Sound and Africa Hi Tech, and at Fabric in London. His debut album arrives on Tectonic Recordings at the end of April.
http://www.twitter.com/distaldub
ABOUT TEETH
Helsinki based Matti Pentikäinen, who records as Teeth, has been actively recording for quite some time firstly as a leftfield rapper (It should be noted quickly his language skills also led to him translating Saul Williams, Jeff Chang and Gary Steyngart into Finnish). His poem book Techno infected album Aavaavaa released on Finnish imprint Katusea in 2005 saw him collaborate with Vladislav Delay, Samuli Kosiminen and others.
Since 2009 he¹s taken a new direction with the Funky / Dubstep / Garage project Teeth which captured a lot of attention in 2011, firstly with the Shawty EP on Oneman's 502 Recordings in May  (featuring a remix from Falty DL), and two 10"s on the much-respected Ramp label (also home to acts like Zomby) in September. Described as being "somewhere between early DMZ & Source Direct," his unique sound has landed him performances at Boiler Room, Rinse FM, DMZ, and Unsound in Kraków. This will be the Finland native's US debut, with a special live set.
http://www.twitter.com/teethmattip
ABOUT THROWING SNOW
London based Ross Tones makes music under the ever so pertinent moniker Throwing Snow. He has received consistent support from some of the UK's top radio show players including Gilles Peterson, Benji B, Sinden, Kiss FM and Ministry of Sound. In December, he released the "Too Polite" EP on Local Action records, which perfectly encapsulates the emotive widescreen atmospheres of his sound, counterbalanced by moments of rhythmic intensity that will appeal to fans of Sbtrkt, Hessle Audio, or James Blake.
http://www.twitter.com/throwingsnow
About Unsound Festival
http://www.unsound.pl/en
Presented by Unsound Festival New York with Dub War NYC and Percussion Lab
Unsound Festival New York 2012 is presented by Fundacja Tone, the Polish Cultural Institute New York and the Goethe-Institut New York
LINKS
http://percussionlab.com/
http://dubwarnyc.com
http://www.residentadvisor.net/event.aspx?355008
http://www.facebook.com/events/324485034273247/