THIS MONTH

WOBWOB!

IS ON FIRE!!!
Nachdem erfolgreichen Debut auf der "MS Stubnitz" am 07.Dezember geht es nun
am
05.Jan.2008
in die zweite Runde...
Diesmal zu Gast, kein geringerer als
RUSKO
, der durchstarter der britischen Dubstep Szene,
nicht ohne Grund heisst es
"Rusko is on fire"
, die
WOBWOB! Crew
bietet euch nun die Möglichkeit das in Hamburg im Hafenklang-Exil zu überprüfen. Auch diesmal wird
Yann Ignition
den Abend mit UK Roots und Dub in bewährter Weise eröffnen, um dann an

Deneh, der Vinylizer, Phokus, The Next
abzugeben, die mit ihren Dubstep-sets Rusko den entsprechenden Rahmen geben werden.
Visuell wird das ganze mit "Soundsystem Visuals" vom
Echolab
aus Köln unterstützt.
Im Goldenen Salon werden
Steppin Warrior
und
Jan-I
, die zusammen die Sendung
Scorcher FM auf FSK machen, Roots Reggae and Dub spielen.
Gate Pressure: 7,-€
Doors: 23.00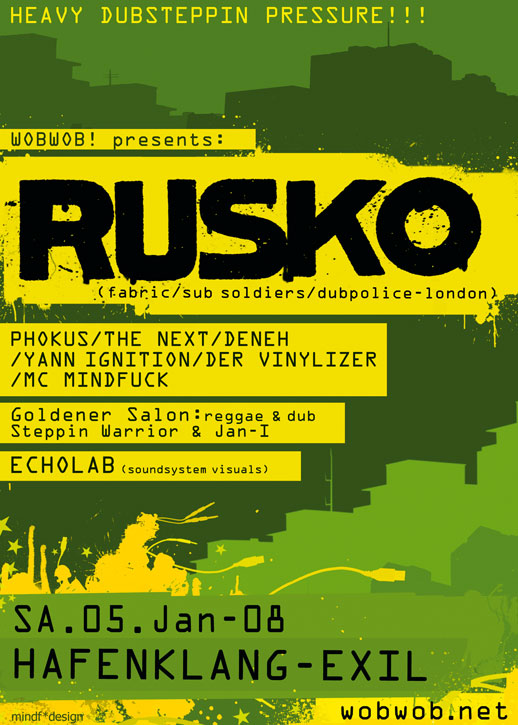 .peaze
phokus
--
http://www.myspace.com/ph0kus
http://www.myspace.com/wobwobdubstep
http://www.wobwob.net