Fri Dec 28.
Monster Mash returns for another free bash at UBER
100 Boundary Street, West End
Brisbane's favourite mentalist rave up party : MONSTER MASH & HARD
GRAFT (Brisbane's Original Grimsters) present
The Heavy weight kings of industrial Grime and Dubstep:
VEX'D (Planet-Mu - UK).
http://www.myspace.com/vexd
And an all yule tide line up of frequency manglers:
Monster Zoku Onsomb!
http://www.monsterzoku.com/
Nam-Shub Of Enki
http://www.namshubofenki.com/
Frosty (>Hard grafT>>)
Paul Abad
Cam1 & Erther
Aniki
so join us for a X-Mash rave up under the missile toe for a Monster X-
Mess treat!
Free...
http://www.myspace.com/monstermashup
http://www.myspace.com/hard_graft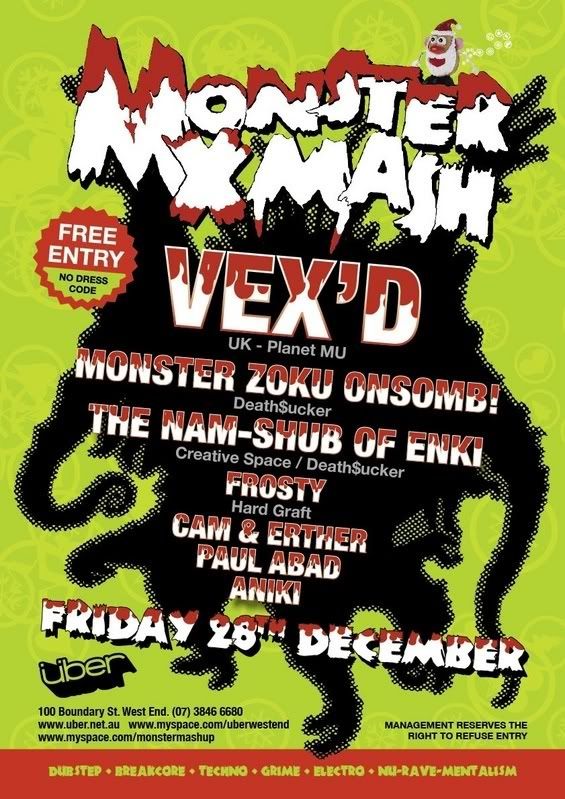 Here's VEX'D Bio
Jamie Teasdale and Roly Porter – aka Vex'd – make music embracing
elements of this bass-strewn topography, their trajectory is
resolutely recalcitrant, readily referencing yet refusing to pledge
total allegiance. Since dropping their debut EP on Bristol's Subtext
imprint in 2004, the duo have been justly championed in grime and
dubstep circles, yet their following draws as much from electronica,
techno and breaks crowds as the aforementioned camps. And it's of
little surprise – this is a strain too techy for purist grime
aficionados, too menacing for garage heads, and too rowdy to slot
neatly in the dubstep ranks.
Their debut album dropped in 2005 on Mike Paradinas' Planet Mu
imprint. As the title and cover image suggest, Degenerate is a dark
collection of works, yet like much output from the breakier end of
this spectrum, it's material that rocks the floor to the next level
with tight dance dynamics rather than militantly crushing it into
submission. Deft sound design underpins much of this album, but it's
the bass that steals the show throughout; for Vex'd craft some of the
rudest, rubberiest, most mangled, stretched and strung-out bass
you'll ever have the pleasure of introducing your neighbours to.
UK techno pioneer Surgeon is fanatical about Vex'd and the freshness
of their sound and it's ability to cross into other fields. This is
music that prowls the fine line between deadly funky and utterly
caustic; a decade of bass science squeezed through a sonic mangle.
Degenerate is as bold a statement of intent as any other electronic
music artist made during 2005. What fiery futuristic filth these guys
will churn out in 2008 is anyone's guess. Music that ups the ante of
heaviness."