The first Crazylegs party of 2009 is shaping up to be an absolute MESS. We're flying in our favourite producer in the world right now, all the way from Philly, to go head to head with one grime legend, and one of the sickest young producers in the game right now. This promises to be a clash of LHC proportions, except this one might *actually* trigger the end of the world. Shit.....
<<<THIS IS AT THE CROFT, NOT DOJO'S>>>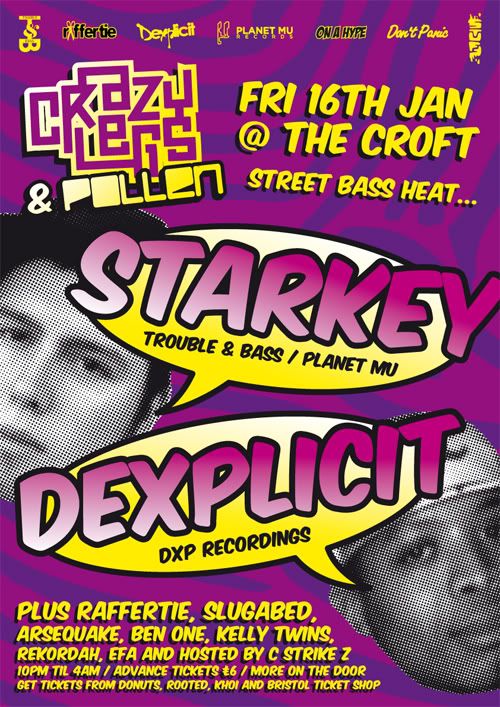 FRI 16 JAN @ THE CROFT
CRAZYLEGS presents.......
------------------------
STARKEY (trouble & bass / seclusiasis)
http://www.myspace.com/starkey
Starkey came crashing into the dubstep spotlight when he was picked by Jamie Vex'd to play on Mary Anne Hobbs' Generation Bass showcase earlier this year. He flew all the way from Philly, rolled out a jaw-dropping 15 minute sonic blitzkrieg, left everybody wondering "who the hell is this kid?", and hasn't looked back since. Releases on Trouble & Bass, Dress 2 Sweat, Werk Discs and the legendary Planet Mu label speak volumes of his ability as a producer. His album Ephemeral Exhibits was released in November to univeral gasps of disbelief, so the man's profile is through the roof right about now. And this is another Crazylegs BRISTOL EXCLUSIVE.
DEXPLICIT (dxp recordings / "pow" producer)
http://www.myspace.com/dexplicit
You should know about Dex really. When grime was in its infancy as UK garage started to fragment at the turn of the century, Dexplicit productions were pushing the boundaries of the sound. In fact, you know Lethal Bizzle's "Pow"? Probably the biggest grime record ever? Guess who produced it. Nowadays though, Dex is bassline. And he plays the most varied, interesting and downright *slamming* 4x4 set you're ever likely to hear. He'll take you by surprise with sweet vocals, he'll jar your senses with half speed grimey breaks - he'll straight up rock your world.
RAFFERTIE (hold tight / planet mu)
http://www.myspace.com/raffertie
We had to top this off with Raffertie - the boy is about to blow. Mary Anne Hobbs ("he's sick in the head, isn't he?") has been tearing apart her late night Radio 1 show with his disgusting productions. Trust me, not even Caspa can rival the straight sickness of Raffertie's wobble. He's going to be part of a three way face-off with Luke Envoy and Ghosts on Tape on Radio 1 early next year, and he's about to release records on Planet Mu and Starkey's Seclusiasis label. Come and get the lowdown on one of *the* producers to watch out for in 2009. Oh... and it's another EXCLUSIVE.
ARSEQUAKE (the blast)
http://www.myspace.com/theblast_bristol
SHANDY (crazylegs)
http://www.myspace.com/thedjshandy
JAMBO (crazylegs / freejive)
http://www.myspace.com/dj_jambo
------------------------
hosted by:
C STRIKE Z (central spillz)
http://www.myspace.com/cstrikez
------------------------
POLLEN presents:
SLUGABED (stuff records)
http://www.myspace.com/slugabedmusic
BEN ONE (creative control)
http://www.myspace.com/thebenone
THE KELLY TWINS (tape / ufo)
http://www.myspace.com/plymuff
REKORDAH (pollen)
http://www.myspace.com/rekorder87
EFA (pollen)
http://www.myspace.com/essentialfattyacid
------------------------
tickets available soon!
http://www.myspace.com/crazylegsclub