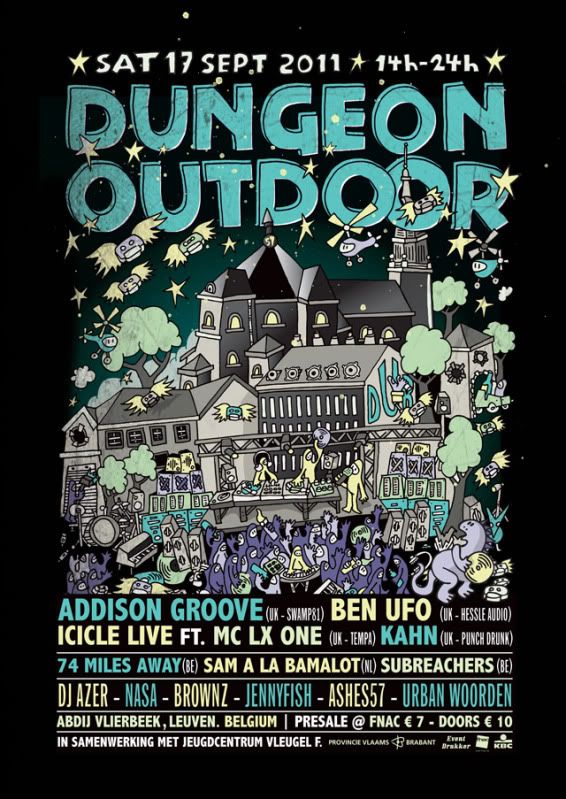 For this 5th edition of Dungeon Outdoor we return to the unique venue that is the Vlierbeek Abbey. We've put together a line-up of artists that represent the different sides of Bass music and are all notorious for their quality sets. This year we also wanted to provide a platform for other art forms so we've invited graphic artist Ashes57 and the poets of Urban Woorden to the festival.
All of this combined with our trademark accessible prices, a high quality sound system and the unique location are sure to make it a great day so why not come over and check it out for yourself?
LINE-UP:
Addison Groove (UK, Swamp 81)
http://www.facebook.com/ad​disongroove
Trobbing bass, hook vocals and a killer rhythm. Addison Groove has been busy trotting the globe the past year transcending genres and crushing dancefloors. Discovering Chicago's juke sound has led him to play fantastic booty shaking, head nodding DJ sets. This is it!
Ben UFO (UK, Hessle Audio)
http://boilerroom.tv/ben-u​fos-65-min-mix
As co-founder of Hessle Audio, Ben UFO is an absolute figurehead of the scene. With finely tuned mixing skills and impeccable selection he's in high demand all over the world. His musical explorations take you through both old and new, across the worlds of house, garage, dubstep and grime. Turn up the sound and get ready to move. UFOs are real.
Icicle - Live (UK, Shogun Audio) & MC LX One (UK)
http://www.facebook.com/Ic​iclemusic
Icicle is recognized as one of the most technically advanced producers in electronic music. He'll be performing his first live set ever in Belgium, demonstrating tracks from his recently released debut album "Under The Ice". He'll be assisted by MC LX One as he crusades through Drum & Bass, Techno & Dubstep.
Kahn (UK, Punch Drunk)
http://www.facebook.com/pa​ges/Kahn/73686718667?v=inf​o
Kahn started out with a dazzling debut at Punch Drunk, home to other great artists like Joker, Pinch and Untold. His music exists out of electrostatic synths, stirring vocals and powerful grooves which he all mixes up with a neck snapping rhythm.
74 Miles Away - Live (BE, Brownswood Recordings)
http://www.mpmsite.com/?ar​ea=artists&v ... il&id=​320
74 Miles Away is a collaboration between Belgian jazz pianist/composer Pierre Anckaert and producers Monkey Robot. They take you on a trip from the days of Bob James and Herbie Hancock to the future beat and soul sound of today.
Support by:
Sam A La Bamalot - Live (NL, Faces)
Subreachers (Med School)
Azer (All Eyes On Hip Hop)
Brownz (Loaded)
Jennyfish (Kingkop Vibes)
Nasa (Residents)
Free art exhibition by Ashes57 (UK, Swamp 81)
http://www.ashes57.com/
Delphine Ettinger is a graphic artist who has lived in the UK, Montreal and New York. She has worked as an art director, designer or illustrator for Public Enemy, Wu-Tang Clan, MTV, Dub War NYC, DMZ, Deep Medi, Swamp 81 and many others. Today she still remains one of the key people to document the evolution of the underground music scene. At Dungeon Outdoor, she'll be displaying a selection of her finest works, covering photography, illustration and design.
Free Spoken Word / Slam Poetry by Urban Woorden
http://urbanwoorden.be/
Urban Woorden are doing innovative things in the Flemish lyrical scene. In the spirit of Gil Scott Heron and initiatives like Def Jam Poetry they promote the spoken word and Slam Poetry, bringing over local and less-local speakers to perform in front of a crowd that grows which each edition. They'll be hosting their own free stage at Dungeon Outdoor, putting forth their selection of must-see artists.
--------------------------​--------------------------​--------------------------​---------------
Presale € 7 (Fnac stores & Fnac online =
http://www.fnactickets.com​/place-spect ... -VLDUN.htm
)
€ 10 at the door.
2 PM till midnight + after party
Dubstep/UK Bass/Drum n bass/Techno/Dub/Hip Hop/Jazz and much more
More info & directions on
http://www.dungeon-concept​.be/
Facebook event page:
http://www.facebook.com/event.php?eid=209081152477805