VENUE IS BLACK BLOCK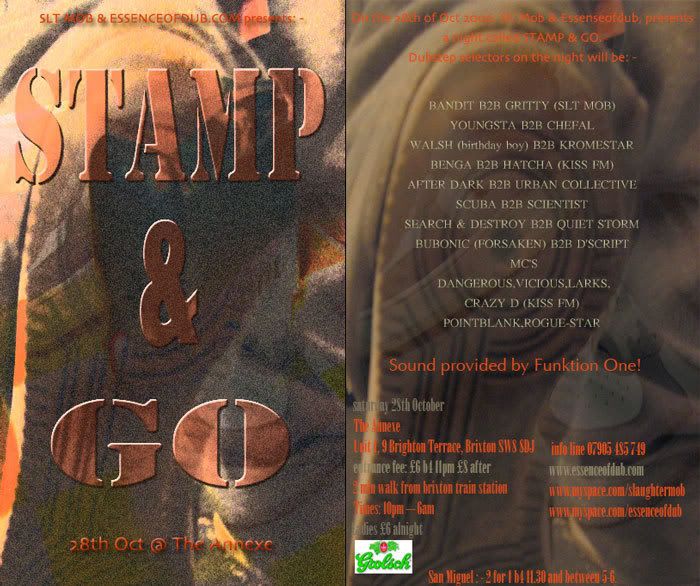 SLT Mob in conjunction with
www.essenceofdub.com
presents 'Stamp & Go' a night of dubstep music.
Some of the biggest names in the dubstep world will be serving up their freshest dubplate sounds filtering out of London. So if your hungry for something new 'Stamp & Go' is the place to digest London's most delicious flavours.
ON THE MENU WE HAVE
BANDIT B2B GRITTY (SLT MOB)
YOUNGSTA B2B CHEFAL
WALSH (birthday boy) B2B KROMESTAR
BENGA B2B HATCHA (KISS FM)
AFTER DARK B2B URBAN COLLECTIVE
SCUBA B2B SCIENTIST
SEARCH & DESTROY B2B QUIET STORM
BUBONIC (FORSAKEN) B2B D'SCRIPT

MC'S
DANGEROUS
VICIOUS
CRAZY D (KISS FM)
POINTBLANK
ROGUE-STAR
2 for 1 on San miguel b4 11:30pm also 5am-6am
thats £1.50 a bottle
also the best party vibes in london without doubt
24 hour drinks license!!!!!!!!!
Saturday 28th October

The Annexe
Unit 1, 9 Brighton Terrace, Brixton SW8 8DJ
2 min walk from brixton train station
ACROSS WOOLWORTH
Times: 10pm – 6am
doors close 5am
entrance fee: £6 b4 11pm £8 after
Ladies £6 alnight
info line 07905 485 749
www.essenceofdub.com
www.slaughtermob.com
www.myspace.com/slaughtermob
www.myspace.com/essenceofdub