Members of Dubstepforum.com
I made a new mix for your listening pleasure. You can skip this, and download the newest Skream, N Type, Chef ... mix instead. But I assure you won't regret downloading this mix. I may be unknown to most of you, but just give it a chance. Thanks.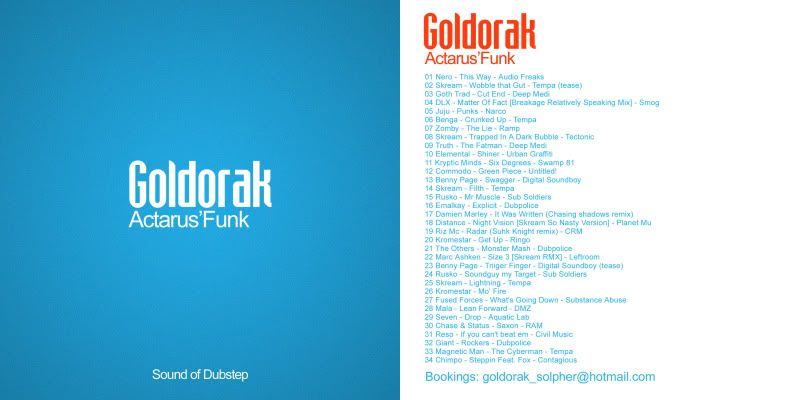 Bio

Goldorak and Solpher are dubstep dj's from Antwerp in Belgium. Both dj's started playing drum and bass at several parties in the country. Goldorak is still playing drum and bass these days. Focusing on the rave'ish sound of '00-'03.

More than three years ago they discovered the fresh sounds of dubstep. Their mutual love for this music brought them together. Goldorak and Solpher played back to back at several major dubstep parties. Combining their deep and fierce selection and sophisticated mixing skills. They are residents of Untitled!, one of the leading Belgian dubstep events and promotors of their own dubstep concepts in Antwerp.

They played alongside the biggest names in the scene:16 Bit, Darkstar, Distance, Chef, Headhunter, Hijak, Joker, Kromestar, LD, Mala, Mary Ann Hobbs, Random trio, Reso, Rusko, Scuba, Silkie, Tes la Rok, Vex'd, Quest, Youngsta ...
Mix
Size: 88 MB
Lenght: 64 minutes
Quality: 192 Kbp/s
Link:
http://www.sendspace.com/file/ve638s
Enjoy!